Die Südafrikaner von Bravado Gaming haben im Dezember 2018 einige Erfolge feiern können. Jetzt wurden die Spieler nun von einer amerikanischen Organisation verpflichtet.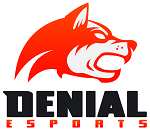 Denial Esports hat das Lineup von Bravado Gaming unter Vertrag genommen. Lediglich der 28-Jährige Dimitri '
Detrony
' Hadjipaschali hat sich dazu entschieden, das Angebot nicht anzunehmen. Der Veteran und Co-Founder ist seit 2006 Spieler bei Bravado - sein Bruder ist der CEO.
Bravado Gaming hatte in den vergangenen Monaten Probleme neue Sponsoren zu akquirieren, um dem Lineup die Möglichkeit zu bieten, nach Nordamerika zu ziehen. Aus diesem Grund startete die Organisation und das Team ein Crowdfunding-Projekt. Profis wie Gabriel '
FalleN
' Toledo und Dan '
apEX
' Madesclaire spendeten selbst bzw. sammelten Spenden für die Südafrikaner. Nachdem die Profis nun gewechselt sind, soll jedoch allen Spendern das eingezahlte Geld zurückerstattet werden.
Im Dezember erkämpften sich Aran '
Sonic
' Groesbeek und Co. den zweiten Platz bei der
DreamHack Open Winter 2018
und den ersten Platz bei dem DreamHack Mumbai Invitational 2018. Zuletzt verpassten die Südafrikaner die Qualifikation für das Major.
Hey everyone as the bravado project is over, they gave me back the money we gave them. So I'll give all the money to a charity association. Probably something for animals. I just wanted to keep you updated. Love you all https://t.co/JjH43MwxRC

— Dan Madesclaire (@Vitality_apEX) 29. Januar 2019
Problemkind kehrt zurück
Auch
Denial E-Sports
hatte in der Vergangenheit finanzielle Probleme. Dies gipfelte allerdings in einem Skandal, da die Organisation ihre Spieler in verschiedenen Esport-Titeln nicht bezahlt hat. Seit September 2017 spielte kein CS-Team für Denial. Ende 2018 übernahm nun ein neuer CEO das Zepter und
startete bereits die Auszahlungen
an die ehemaligen Spieler.
Statement Aran 'Sonic' Groesbeek

We will continue our journey in the United States under the @DenialEsports Banner. #wolfpack 🐺

We're sad to announce that the time has come for us to end our journey with Bravado Gaming. A year ago we would have never imagined that we would have achieved so much under the Bravado Gaming Banner.

We've grown so much over the past year not only as a team, but also as an organization to the point where we have an amazing group of fans across the world.

Bravado Gaming feels much more like a family than an organization. None of it would have been possible without the man at the head of the table, Andreas Hadjipaschali. We wish them nothing but success for the future

We would also like to thank each and everyone of you that contributed to our indiegogo campaign, whether it was in the form of donations or by simply retweeting and raising awareness. The support from the community has been incredible. We will continue to work even harder to show the world what we can do and we hope that you will continue to support us on our next journey.
Leaving @bravadogaming
[b
Statement Management Bravado Gaming[/b]]


On this note, the management would like to apologize on behalf of Bravado to all it's fans, supporters and ESPECIALLY all the donors during it's Indiegogo fund-raising campaign – management realizes how this can reflect badly on the organization, especially after the concerted effort of many high-profile players in the community coming together to assist us in reaching this goal.

Therefore, we want to make it clear that this decision was purely on the players to cancel the campaign and accept the offer they received from Denial E-Sports. We want you to know that this is no reflection on the ethics of the Bravado brand and it's management. We want to ensure that everybody who contributed to the campaign will be refunded.

Bravado was disappointed by this outcome but we stand tall and proud in achieving its goal of taking a South African team off the African continent and placing them on a current global ranking of #21 in the world. We are proud that our players seized the opportunity offered to them and made the best of Project Destiny thereby making Bravado, it's management, staff, fans and all it's supporters extremely proud and simultaneously giving hope to all other potential future pro-players out there.

Project Destiny may have come to an end but not Bravado's endeavors. Bravado plans on continuing its efforts to establish a world-class Counter-Strike team internationally while simultaneously working on a variety of projects impacting the social and competitive gaming scene throughout South Africa and various parts of the world. We cannot disclose further information of our future CS:GO squad right now, but we'll make sure to continue keeping you in the loop as things progress along with some other cool announcements.
It is important to mention, all players were notified that the campaign was on course to reach its target (at the time sitting at 60% of the fixed goal) as there was a corporate sponsor who was willing to pay in the case of any shortfall (40% of the fixed goal) for the organization in order to ensure the campaign was a success.
Lineup Denial E-Sports
Aran '
Sonic
' Groesbeek
Rhys '
Fadey
' Armstrong
Johnny '
JT
' Theodosiou
Ruan '
ELUSIVE
' van Wyk
Tiaan '
T.C
' Coertzen (Coach)